MISIÓN ROMA, Ricardo Villalba •
Three days from finishing an incredible year spent with ""Misión Roma", Ricardo, "Riky," Villalba received the gift he had waited for during 12 months: during the Angelus, in front of everyone in St. Peter's Square, he held the tablet and helped the Pope "click" his registration, thus inaugurating World Youth Day registration, WYD Panama 2019. Being at the Holy Father's side and then being able to greet him, he relates that experience. —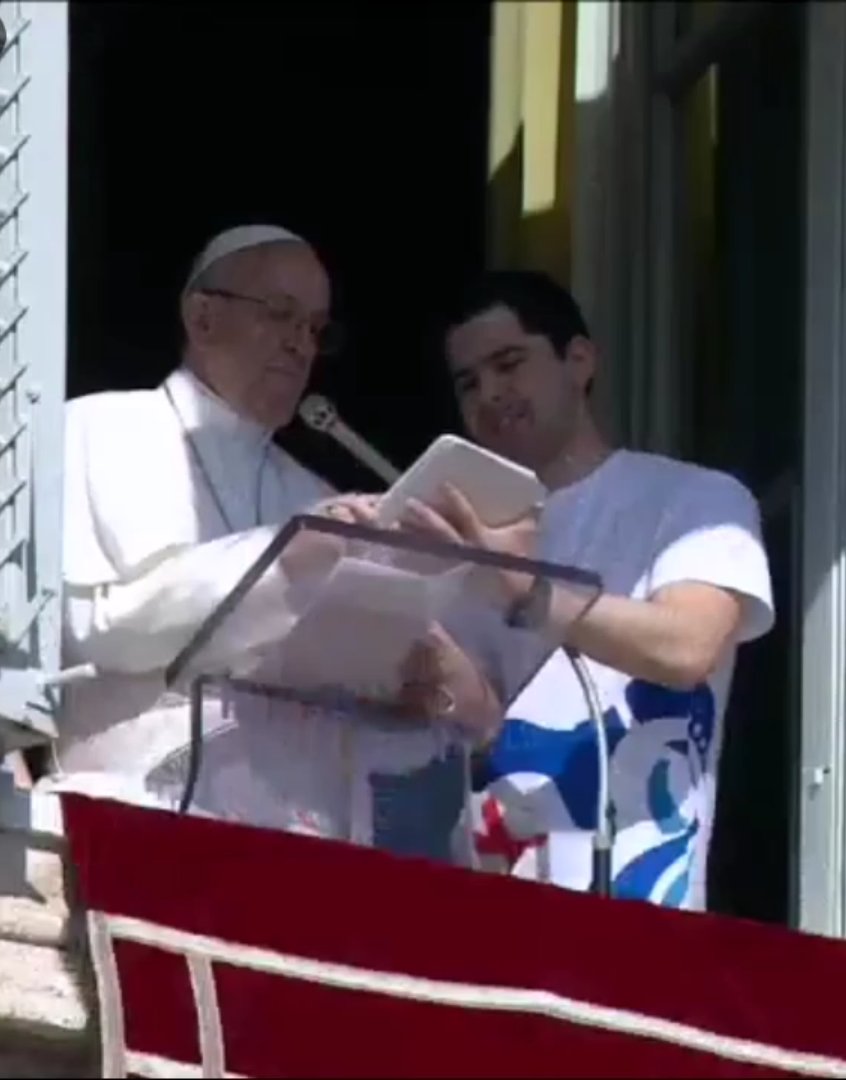 My name is Ricardo Villalba, I am 22 years old, and I have belonged to the Schoenstatt Boys' Youth in Asuncion for five years. Our apostolic project called Misión Roma (Mission Rome) began in 2015, which was born from the heart of a group of young men and two Paraguayan priests, with the goal of being an arm of the laity in the founding of our Movement in Rome, Italy.
A year of our life— conquering hearts
I was a part of the third group of missionaries called "Misión Roma 3," and during the last 12 months, I lived in Rome. The greatest tool of our mission is the witness of faith. We are young men who through their profound love for the Blessed Mother gave one year of our life toward conquering hearts.
I lived the best year of my life, giving myself to others, and I received affection and love from an Italian family that surprised me by their warmth, their closeness and their trust. It was a year of growth in all the columns of our mission: personal, cultural, communal, and spiritual.
Since the moment Pope Francis was elected, I felt a connection and admiration, surely because I was a former student from the Christ the King School, a Jesuit institution, we share a closeness to St. Ignatius of Loyola.
I wanted to greet Francis
Upon receiving the confirmation of being a part of Misión Roma, I set about working toward the opportunity to greet the Holy Father as a goal, to let him know that Paraguayan youths pray for him and accompany him in his work. Throughout the entire year, I attended Masses, audiences and every events possible looking for the right moment, always accompanied with a loyal and simple prayer for the Pope.
In Rome three days from the end of this incredible year in my life, I received this unique invitation—the opportunity of being at his side for such an important event as the opening of registrations for World Youth Day. It is difficult to explain the emotions, the feelings that began to move in my heart. The Blessed Mother was not outdone in generosity, a year full of fruit was not enough to give me, she also wanted to give me this. But she is so capricious, she left it the to end, she good!
Sunday, 11 February, I presented myself a little after 11:00 am at the St. Ann Gate, where a priest, who took me to the Apostolic Palace, welcomed me. In the hall, they gave me the device that Francis would use to register, they explained the process, and they gave me some other instructions. They told me that the Pope would arrive a little before, and after the Angelus, I would have the opportunity to greet him.
A presence of God that overwhelms you
At 20 minutes 'til noon, one of the doors of the hall opened unexpectedly, and there he was smiling, gesturing with his hand. I picked up my Pilgrim Mother, the bag with the gifts, and the tablet. I approached him, I greeted him in Italian to which he responded "Where are you from?," "from Paraguay, Holy Father." Always smiling, he greeted a young Italian girl, and he invited us to accompany him.
We entered the hall where the Angelus would be, he introduced us to his colleagues, and we took our place in a corner. There he was, it was so real, with a presence of God that was overwhelming, with a simple smile, a serenity that was palpable, it was a moment when the heart does not know what to do.
He approached us again and offered us a chocolate, I accepted with a trembling hand. A little later, he invited us to accompany him in a silent prayer.
Noon arrived with the sun radiant and shining down fully on the window along with the shout of the pilgrims, the Pope looked out and with his traditional greeting, he began the Angelus.
They placed us behind him, and we participated silently. When the moment for the registration arrived, with a heart beating very rapidly, I stood at his side, and I looked at St. Peter's Square with surprise as I proceeded to present him with the registration.
Those were the longest and most emotionally charged seconds of my life; there I was— representing my country, the youths, and Misión Roma.
After the click, the gifts
In the end, I had the opportunity of presenting him with some gifts, Paraguayan chipa (a typical bread made of manioc starch and cheese), a small wooden triptych made of Palo Santo wood, a rosary, and two letters. I held a relaxed conversation with him, where I was able to explain a little about my year in Rome, about our project. I told him, that he is a messenger of peace, a light of hope for the young people that as missionaries we believe in his project, we believe in a Church of God that goes out to encounter his pilgrims.
I asked him for a blessing for my family, the missionaries who passed through Rome, those who are beginning their year, for the priests who accompany us, their families, for Paraguay, and the young people of Italy. He blessed my Pilgrim Mother, my Covenant of Love medal, and then he gave me a hug. We took a "selfie," and then he bid farewell wishing me a good return trip home, and he asked me to greet Paraguay for him.
Whoever has a mission must fulfill it
It is hard to put into words what this encounter has meant to me. Since I was returning on Thursday, the 15th, I was also in a special time saying my goodbyes to all the people from here, expressing thanks, and living every day to the maximum. It is difficult to stop and reflect, and in some way, "digest" the feelings and emotions.
I am grateful to Mary who bravely continues to conquer young hearts, who chooses Paraguayans for a great and difficult task.
Fr. Kentenich said, "Whoever has a mission must fulfill it, even if it leads into the darkest and deepest abyss …even when it requires one death leap after another." (Niehaus, Jonathan, The 31st of May, p. 8)
Original: Spanish.  February 2018. Translation: Celina M. Garza, San Antonio, TX USA. Edited: Melissa Peña-Janknegt, Elgin, TX USA