Focolare Movement •
On the 10th anniversary (2008-2018) of the death of Focolare's founder, the Movement is highlighting the contribution made by the charism of unity in the field of social responsibility.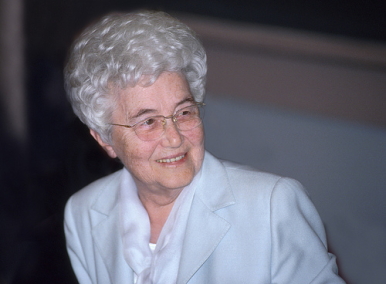 So we abree: to love through action and give a hand to a concrete project.
Let us make our own the saying: "to love in action." (1 John 3:18) . Jesus wants action; he wants charity towards our neighbour in concrete service. He himself showed us this with the washing of the feet for example. To love through action.
We know we can do this … all day long: concrete actions helping one neighbour, then another and another, and so on. … Then, at the end of our life, Jesus will reward us in proportion to these concrete actions. If even one glass of water offered to him in our neighbour will not go unrewarded (cf. Mt 10:42), what will it be like for many glasses of water? …
I was impressed to learn from our statistics that (in the Movement) over two hundred works or activities had developed spontane¬ously all over the world, to meet the various needs of our brothers and sisters. There are charitable works for the sick, for older people, the unemployed and those differently able. There projects for people who are lonely and for overseas students; activities for children in need, for the homeless, prisoners, drug addicts and alcoholics. There are courses for human development and cate¬chesis, projects in the field of economics, work and education. There are initiatives on behalf of developing countries or following natural disasters.
I praised God for all this because, from the very beginning of the Focolare, the so-called works of mercy have been, as the Gospel says, a key subject for a successful final exam and so for a good end to the Holy Journey of our life.
In this conference call, I would like to ask you to give some thought to one of these works or activities. I would like you to take it to heart in a special way, interesting yourself in it, helping it develop and grow in whatever way you can, and feeling co-responsible for it.
…. Look around. You will see activities and concrete projects that have been started by New Humanity, Youth for a United World, Teens for Unity, the New Families or the Parish Movement. They may be in your own zone or in others. See how to make contact with them, perhaps consulting the people responsible for the Movement. Approach these activities gently, not disrupting them but simply wanting to help, perhaps only through your prayers.
… So, we agree: to love through action and give a hand to a concrete project. Seeing our concrete love and help for a particular activity, the Lord will be able to say once more, about each of us, "See, I am coming soon; my reward is with me, to repay according to everyone's work" (Rev 22:12).
Chiara Lubich 12th May 1988
Source: www.focolare.org
Schoenstatt celebrates the 50th anniversary of it`s Founder`s death. Now, what? Which is "your" social project?

Also financial support is love through action: www.schoenstatt.pro
Photo above: Dequeni