By María Fischer •

On Saturday 16 April, Pope Francis returned from his 13th international apostolic visit, this time to the Greek island of Lesbos. As is customary, before ending each of these trips and returning to the Vatican, the Holy Father went to the Basilica of Santa Maria Maggiore to give thanks to the Blessed Mother, the Salus Populi Romani, for her protection during the trip. Before going to Lesbos on Friday, he also went to the Basilica to pray for this brief and very important journey. The Pope marks each of his apostolic journeys with these visits to Mary, but this time, with this visit to the refugees in Lesbos, the Marian emphasis is the message: the Church is mother, like Mary, mother of the most vulnerable and abandoned.
"The Pope travels to Lesbos, and what? A short while later this decision made a deep impression inside and outside the Church, the media fell over themselves with enthusiasm and ordinary people commented on it in the market place as an unexpected event," said Fr. J. Ignacio Callega, a Spanish priest who works for Justice and Peace. Francis is capable of this and much more, but our culture of instant communication digests surprises with the same ease as it does with audiovisual content …and so Francis goes to the island of Lesbos to visit the refugees, to remind Europe that these people are persons, that almost all of them are there out of extreme need for them and their children, and to urge Europe to recognize that it has an international right to fulfil and obligations of solidarity to interpret this right and its resulting policies. To understand Francis, one must recognize that, despite the Church's faults — and it has many — this man and this institution bring to the heart of Europe, to the heart of its policies and its citizens, the shock conscience for the suffering of the victims that calls for a just moral coexistence.
We are not all able to house refugees, change political decisions, give food and drink to those who are stranded behind fences and barbed wire. But we can pray for them, and we can cry. We once again hear Pope Francis's question in Lampedusa: Who among us have cried for the children, for the youth, for the men and women who drowned?
"Who am I that I should receive a visit from the mother of my Lord?"
"Refugees are not numbers; they are people with faces, names and histories, and should be treated as such," Francis tweeted on 16 April. He conveyed this message not only with his visit and his words, but also with his actions on that day. He did not go to Lesbos to give a sermon or hold a conference, but to console the refugees with his presence, to honour them as human beings worth of a visit from a Pope, a good shepherd. "Politicians do not go to an event unless they have the possibility to make a speech." This is the first lesson one learns before going into a public relations career. In general, this also holds true for church authorities and even for leaders within the Schoenstatt Apostolic Movement. A gesture that possibly touches more deeply is the "magic" of the missions and the Pilgrim Mother Campaign: these selfless visits don't claim the limelight, they aren't published in the media and they don't gain lots of followers. These visits echo the visit that Mary made to her cousin Elizabeth, and which for centuries evoked Elizabeth's astonished question: "Who am I that I should receive a visit from the mother of my Lord?"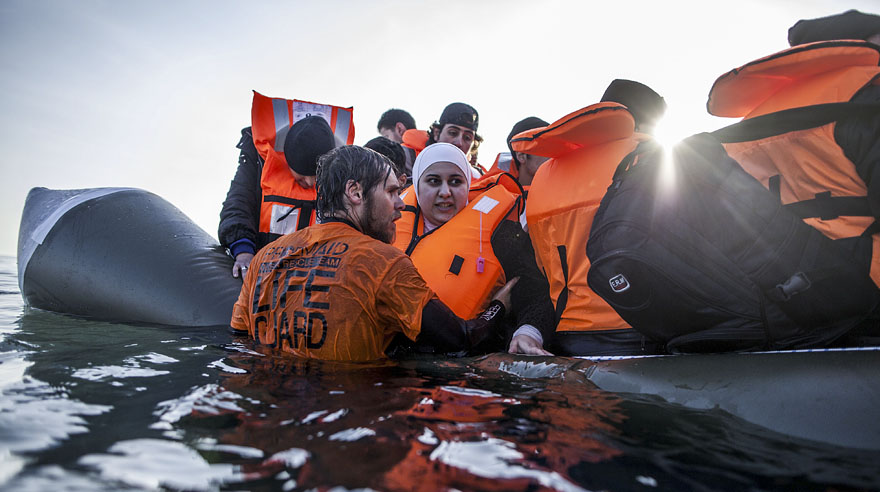 A work of mercy
What Francis' visit to Lesbos about? A political act, a prophetic act, an act of justice and solidarity, a call to the political institutions of Europe, a cry to awaken men of good will who are asleep and sedated by their heavy workloads and many interests, who are unmoved by what is happening on their doorstep?
It was, above all, a work of mercy.
"Preach by example. This is what the Pope did during his lightening visit to the island of Lesbos in the Aegean Sea, which since the closure of the border between Greece and Macedonia and a questionable agreement between the European Union and Turkey, has become a virtual limbo for thousands of refugees," commented Elisabetta Piqué, correspondent for La Nación in the Vatican. "In a decision that surprised the world and an audacious political move, Francis brought three Syrian families with him on the papal flight back to Rome. Twelve refugees in total, six adults and six children, whom the Vatican will assist to restart their lives, far away from the bombs that destroyed their homes. The Pope's action was a wake up call to the European political leadership, who are incapable of dealing with the worst human catastrophe since the Second World War."
It was a work of mercy, it was a call summarised in an article in a Latin American newspaper: "Listen to his voice, follow his footsteps."
With the act of mercy towards these refugees, with the thousand that are in Lesbos and the twelve he took to the Vatican, he made a prophetic and political act of solidarity, giving a message that is both simple and challenging: Yes you can. If we cannot save the thousands we can save twelve. It's more than that: no we cannot rescue the refugees, but let us save those we can: the street children, the elderly who have been abandoned, homeless families, unemployed youths…
Praying with Pope Francis
Merciful God, we pray to you for all the men, women and children who have died after leaving their homelands in search of a better life. Though many of their graves bear no name,
to you each one is known, loved and cherished. May we never forget them, but honour their sacrifice with deeds more than words.
We entrust to you all those who have made this journey, enduring fear, uncertainty and humiliation, in order to reach a place of safety and hope. Just as you never abandoned your Son as he was brought to a safe place by Mary and Joseph, so now be close to these, your sons and daughters, through our tenderness and protection. In caring for them may we seek a world where none are forced to leave their home and where all can live in freedom, dignity and peace.
Merciful God and Father of all, wake us from the slumber of indifference, open our eyes to their suffering, and free us from the insensitivity born of worldly comfort and self-centredness. Inspire us, as nations, communities and individuals, to see that those who come to our shores are our brothers and sisters.
May we share with them the blessings we have received from your hand, and recognize that together, as one human family, we are all migrants, journeying in hope to you, our true home, where every tear will be wiped away,
where we will be at peace and safe in your embrace.
Original: Spanish. Translation: Sarah-Leah Pimentel, Cape Town, South Africa