SPAIN, Jesús Colina. Once again, Pope Francis has been selected "Man of the Year" by the media in 2014. In the second year of his pontificate, the recognition has been made by the Spanish Daily Newspaper ABC. "Throughout 2014, his figure has grown to the point of being profiled as a 'Pope of the world' and not only for Catholics, and in a much more brief time span than John Paul II," explains ABC upon giving the reasons for his selection (CF. "Pope Francis, man of the Year").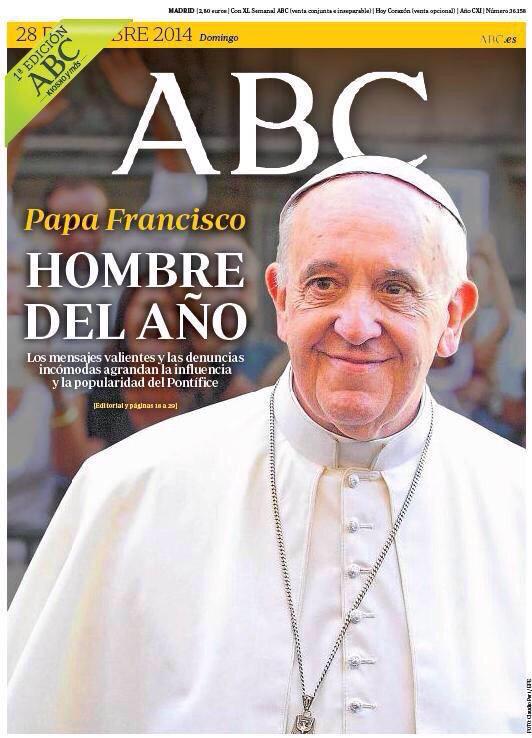 At the end of 2013, Francis had already been named "Person of the Year" by "Time" magazine. Facebook confirmed that the pontiff had been the person most mentioned on the social web in that same year.
"What is Francis' secret? How is it possible to be applauded at the same time by President Obama and President Raúl Castro in televised messages to their respective countries? Why did the Congress of the United States invite him – almost one year ago – to intervene before both houses according to the format of the State of the Union Address? Why has the European Parliament given him the most roaring standing ovation in the history of the European Chamber?" the ABC Vatican correspondent, Juan Vicente Boo, asks himself.
"Perhaps because Francis jumps into the arena in defense of the weak – he responds. Because he acts following – without fear – his ethical principles and his feelings. Because he went, without a cortege, to the island of Lampedusa before going to any Italian city and to Albania before going to any other European country."
"Perhaps also because he utters uncomfortable truths, placing on the table what others do not dare to mention in public. A Pope who calls bread bread and wine wine – especially in regard to the reform of the Vatican Curia – he creates many enemies in the ranks, especially if he criticizes in public the 'social climbers,' the 'bettors/racing fans' and the organizers of the 'rope parties' of power."
Original: Spanish. Translation: Carlos Cantú, Schoenstatt Family Federation, La Feria, Texas USA 01122015