CHILE, Fr. Mariano Irureta, National Director of Movement in Chile •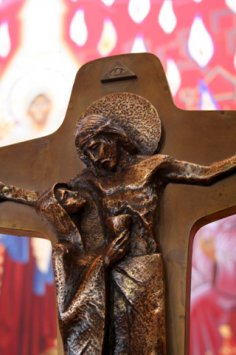 The forest fires that have affected a large part of Chile for several days prompted Fr. Mariano Irureta, National Director of the Movement Chile to send a letter to Schoenstatters (in Chile and abroad) on the Feast of the Presentation. He asks for help with prayer and concrete gestures of solidarity, as well as to let all Schoenstatters and people who want to help know.
"Indeed, we saw the article, "Covenant Solidarity with Chile," published on your website, which we heartily appreciate," María Isabel Banfi, National Secretary of the Schoenstatt Movement in Chile wrote, when she received the response from the schoenstatt.org editorial team, with an offer to publish and translate the letter.  "We entrust, you and all your team to the MTA in the Bellavista Cenacle Shrine." Dear Chilean Family, we entrust to the MTA in our Shrines all of you, all the victims, firefighters, doctors and volunteers and everyone who joins in the struggle against the flames. We are family. We are in Solidarity.
Santiago de Chile, 2 February 2017
Feast of the Presentation
Dear Brothers and Sisters in the Covenant:
For a couple of weeks, a large number of Chileans have been strongly affected by the enormous forest fires that have been sweeping a huge portion of the central southern area of our country.
The first thing that strongly touches us as a country is the loss of human lives; about eleven people have died during this time – victims of the fire and its consequences.  As a Community, we express our condolences to their loved ones, and we pray to the Lord to give them consolation. Every loss causes sadness, however, in these conditions it seems to be greater.
On the other hand, the majority of the victims are people, who acquired possessions with much effort and the work over many years that they now have lost from this catastrophe. They not only lost their personal possessions like their homes and furnishings. In the majority of cases, they also have lost their source of work, since the economic activity of the area is mainly agricultural, forestry and cattle breeding. The land, the forests and the animals have been killed or seriously damaged by the fires.
According to the Chilean Government's official figures, currently there are 125 fires, 58 which have been controlled, 62 are being fought and only 3 have been extinguished. More than 366,368 hectares are affected, 6,162 people are victims and 1,551 homes were destroyed (source: CONAF as of today).
All of Chile at public, civil, and ecclesial levels is touched and profoundly affected by the serious social, humanitarian, and ecological situation that we are suffering. As Schoenstatters, we are not indifferent to these events. On the contrary, many have organized heroically and selflessly to assist and help the families who are victims and volunteers helping to support the government work in extinguishing the fires.
Schoenstatt Families from the affected areas know the needs of their affected neighbors very well and have asked for the support of the rest of the National Family to obtain the necessary means  to offer timely and effective help to families in need.
Through this message, we want to extend a call to those who want to support and to channel their help through organized Schoenstatt Families in Chile.
Monetary donations can be deposited at the following open accounts:
Schoenstatt Family of Rancagua
Fundación Schoenstatt Rancagua
​BCI​ Bank​
Account #: ​ 52180913
Tax #:  65.117.716-2
Subject of mail: "Ayuda por incendios forestales"​
​E​mail: coordinadoresrancagua@gmail.com​ (it is very important to send e-mail for record keeping)
Schoenstatt Family of San Fernando
Corporación Apostólica Tierra Santa
Banco de Chile
Account # 00-208 02389-05
Tax # 65.065.340-8
Subject of mail:  "Ayuda por incendios forestales"
E-mail: sfcoordinadores@gmail.com (it is very important to send e-mail for record keeping)
Schoenstatt Family of Curicó and Talca
Gonzalo San Martín
Banco Santander
Account #: 2547108-3
Tax #:  6969380-6
Subject of Mail: "Ayuda por incendios forestales"
E-mail: ronniejimenez@gmail.com (it is very important to send e-mail for record keeping)
We also invite you to join in our prayers, asking our beloved Blessed Mother in all our Shrines for her to console and give hope to the people who are suffering the loss of loved one and personal belongings,  that the fires do not continue to spread, that we may extinguish them as soon as possible, and that she gives all of us a heart of solidarity and industrious hands to reach out to encounter and help our brothers/sisters and compatriots with their needs.
May the light of this day manifest the strength of our Covenant of Love as our Father desired. Solidarity enkindles the light of hope on this day of the Presentation and makes us believe that Covenant culture is a reality.
From the Cenacle Shrine of Bellavista, your brother in the Covenant,
Fr. Mariano Irureta
National Director 
Schoenstatt, Chile
On behalf of the schoenstatt.org team, we are in solidarity with the Chilean Schoenstatt Family, offering our prayers, our capital of grace, and we also offer a tool for making donations easier, especially outside of Chile.
In desperate times such as these, it is good to know that we are family and that we show it through deeds.
QR-Code for online donations for Chile
Original: Spanish, 004/02/2017. Translation: Celina M. Garza, San Antonio, TX USA Edited: Melissa Peña-Janknegt, Elgin, TX USA