ECONOMY OF FRANCESCO •
The Economy of Francesco,​ an international event featuring young economists and entrepreneurs from all over the world, will kick off on Thursday​ 19 November and will be live streamed on the francescoeconomy.org portal. It has been confirmed that, to conclude this three-day event, Pope​ Francis will virtually participate with a video message to the young participants connected online with the Basilica of Saint Francis of Assisi. For the occasion, on 21​ November at 11 pm (Italian time), the monument to Christ​ the Redeemer in Rio de Janeiro will be lit up with the symbolic colours of The Economy of Francesco: green, brown and yellow. —
La manifestación empezará a las 2 de la tarde (hora local de Italia) con Listen​ to the cry of the poorest to transform the earth​, vídeo editado por International Movement ATD Found World, el mensaje del Prefecto del Dicasterio para el Servicio del Desarrollo Humano Integral, Cardenal​ Peter Turkson,​ y la bienvenida del Comité organizador. Al abrir las conferencias será el economista Jeffrey​ Scachs,​ con "Perfecting Joy: three proposals to let life flourish".
«Gracias a San Francisco y el Papa Francisco ha surgido el movimiento más vasto de economistas a nivel internacional. Son estas noticias que hoy por hoy necesitan la sociedad y la Iglesia»​ ha declarado el Director Científico de The Economy of Francesco, Luigino Bruni​.
Twothousand young people connected
The event will begin at 2 pm with Listen​ to the cry of the poorest to transform the earth​, a video by the International Movement ATD Fourth World, the message of the Prefect of the Dicastery for Promoting Integral Human Development, Cardinal​ Peter Turkson,​ and a welcome address from the Organising Committee. The conferences will be opened by the economist Jeffrey​ Sachs with "Perfecting Joy: three proposals to let life flourish".
'Thanks to Saint Francis and Pope Francis, the world's largest movement of young economists has been founded. This is the kind of news that society and the Church need today,'​ said Luigino​ Bruni, Scientific Director of The Economy of Francesco.​
The online version of the event will allow all the young people registered (2,000 from 120 countries) to participate under the same conditions and to share the experiences they have gained over the last few months as well as their work, proposals and thoughts. It will be an innovative, inclusive and global digital event. There will be 4 hours of live streaming per day and a 24-hour marathon, on 20 November, with the contribution of young people connecting from 20 different countries. Assisi will be hosting the directors of the event, with live reports from historic places that played a key role in Saint Francis' life: Basilica of Saint Francis of Assisi, Church of San Damiano, Sanctuary of Rivotorto, Basilica of Saint Clare, Sanctuary of the Spoliation and Palazzo Monte Frumentario.
The initiative was developed in response to the invitation that the Holy Father made on 1 May 2019, on the occasion of Saint Joseph's Day, to economists, students, businessmen and businesswomen under the age of 35. Pope Francis intends to initiate a process of global change involving young people and a team of qualified experts in order to build a more just, fraternal, inclusive and sustainable economy today and in the future, without leaving anyone behind. The next event, which will be a physical event, will be held, once again, in the city of Saint Francis in the autumn of 2021, when it will be possible for everyone to participate safely.
It will be organised by an Organising Committee made up of: Diocese of Assisi, Serafico Institute, Municipality of Assisi, Economy of Communion, and with the support, on behalf of the Holy See, of the Dicastery for Promoting Integral Human Development, which sponsors the initiative and the Franciscan Families.
There are a few young Schoenstatt people from Spain, Chile, and Argentina, participating.
How to participate?
To participate in the event, go to francescoeconomy.org​ / and click on the dedicated live streaming page. The 12 thematic villages, which have been turned into online work sessions that these young people have been working on over the last few months, are: Work​ and Care; Management and Gift; Finance and Humanity; Agriculture and Justice; Energy and Poverty; Vocation and Profit; Policies and Happiness; CO2 of Inequalities; Business and Peace; Women for Economy; Businesses in transition; Life and Lifestyle​. ​The conferences will feature world-renowned speakers, including Nobel Prize winner Muhammad Yunus and, among others, economists and experts such as Kate​ Raworth, Jeffrey Sachs, Vandana Shiva, Stefano Zamagni, Mauro Magatti, Juan Camilo Cardenas, Jennifer Nedelsky, Sr. Cécile Renouard as well as many experienced and skilled entrepreneurs. Speakers will also listen to what the young participants have to say, also through individual interviews and in interactive sessions open to a limited number of participants.
The full programme is available on francescoeconomy.or​g.​
LIVE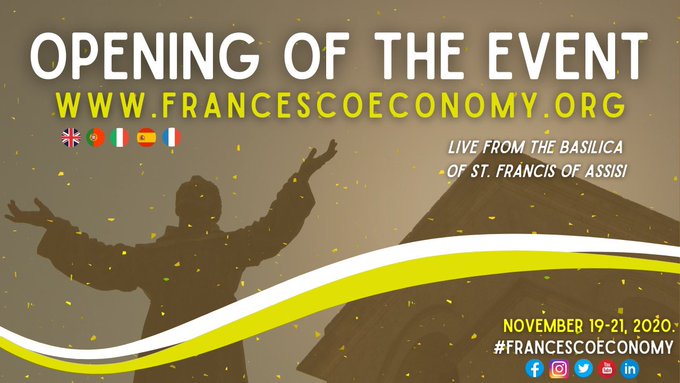 See the information, news and testimones at Vatican Media