HUNGARY, Csermák Kálmán – Schoenstatt Movement, Hungary/Maria Fischer •
Róbert Gódány, one of the founders of the Hungarian Schoenstatt Family, died in the afternoon of 19 September 2017. As one of the first Schoenstatt families in Hungary, the Gódány family settled in Obudavar on Lake Balaton after their return from Austria, and this is where the first Schoenstatt shrine in Hungary was dedicated in 2005. When Robert visited Fr Kentenich in Milwaukee, the words of advice he received came to a climax in the motto: "My home country (Hungary) has to become Schoenstatt". At the time Robert had not understood the full implications of those words, but he later realised that he had been given the mission to be an instrument for Schoenstatt in Hungary. But how?
You have only to take up the powerful current of love, allow it to flow through yourself, and win others for it. There don't have to be many. Then when you are a small group, direct the current of love towards Hungary … and then to Russia."
Quoted in: Richard and Ingeborg Sickenger, The Principle of Growth, Vienna 2014, p. 166.
Kálmán Csermák, a companion, wrote about Róbert Gódány:
 Róbert Gódány was born in Budapest on 17 November 1939. He was brought up by his grandparents who lived in Dunapentele, and they encouraged him to study. Even as a young person he had a strong feeling of intensive inner freedom and a strong sense of justice. He was just seventeen when in 1956 the Hungarian Revolution and independence movement started, and he supported it enthusiastically. After it was forcefully suppressed by the Soviet army he had no other possibility than to flee to Austria.
After he had completed his education in Vienna, he began to read Maths and Philosophy at the university. As soon as he recognised that other instruments were needed to set the world to rights, he began to study theology in 1959. That year he first encountered the Schoenstatt Movement when he met a Schoenstatt Sister of Mary, Sr Auila, who had organised a visit to Germany for the students at the Pazmaneum, the Hungarian Seminary in Vienna. He was immediately touched by the spirit which encouraged all Christians to strive for sanctity. At the same time his ambition and curiosity motivated him to visit Milwaukee for a few weeks in November 1962 in order to meet Schoenstatt's founder, Fr Joseph Kentenich, personally. He was living and working there in exile at the behest of the Church authorities. During their conversations Fr Kentenich, who was keen to get to know Róbert's situation, encouraged him to awaken and strengthen an awareness of the covenant of love in his Hungarian friends, and to pass it on as a community. He would then be able to bring it to Hungary, and from there further to the East.
Make each other happy
In 1964, after he had recognised that he was not called to the priesthood, Róbert Gódány ended his theology studies as a layman and began to work academically. In the years that followed he collaborated in strengthening the Schoenstatt Movement in Vienna. In August 1966 he married Rita Gregorich. Fr Kentenich sent him the following encouragement for their life together: "Make each other happy!" From then on they worked with a number of friends in the Family Movement in Vienna. Between 1968 and 1976 five children were born: Maria, Veronika, Peter, Tamás and Anna.
Founding Schoenstatt in Hungary
At the end of the 1970s Robert and Rita Gódány realised that love for their homeland, in which cautious movements towards greater freedom began to emerge, was motivating them to return to Hungary with their family. In the strength of the covenant of love with Mary, and upheld by the promise of Fr Tilmann Beller, their friend, that he would visit them once a year, they began a new life in their new home near Obudavar on Lake Balaton in 1980. At that time Róbert, who had previously worked as a computer programmer, was a simple farmhand who also worked for the Zánka LPG (Liquid Petroleum Gas company). A few years later he was able to place his expertise as a programmer at the service of the Church in the diocese of Veszprém.
Thanks to their contacts with the young Catholics at Veszprém, and their families, and the support of Fr Tilmann Beller, the Hungarian Schoenstatt Family was founded in 1983. From 1985 the summer conferences for families were organised in the Gódány home. These were connected with spiritual formation for couples and a family holiday.
Around Róbert Gódány you could always expect initiative, activity and creativity. In his first two terms of office after the fall of the Iron Curtain he supported the people of Obdudavar as their mayor. The Academy for Family Pedagogy, which was founded in 1992, played an outstanding role in the time following the end of Communism in Hungary. Together with his wife Rita he took over the leadership of the Schoenstatt Movement with seven other couples, because Fr Beller was forced to retire. In 2012 the translation of the Hungarian edition of Fr Kentenich's Dachau prayers, Heavenwards, by Róbert and Rita Gódány was published in order to make it possible for others to experience Schoenstatt's spirituality as a totality. In the last few years he devoted himself more to his large family of twenty-three grandchildren, almost all of whom live close by, while he increasingly withdrew from the life of the rapidly growing Schoenstatt community.
We thank Schoenstatt's Mother and Queen for the fruitful and rich life of Róbert Gódány.
Source: Csermák Kálmán / Hungarian Schoenstatt Family
 "Instead of Wreaths" a personal memory
An encounter in Schoenstatt at the start of the first European meeting of families. I met Mr and Mrs Gódány and the Hungarian Bishop for families at the airport. I can well remember with what thoughtfulness Róbert Gódány repeatedly interrupted the lively conversation of the three in order to make a summary in German, or simply to make a small joke. Then I experienced how he led the bishop to the Original Shrine. He was so filled with love for this little shrine that the bishop, who was encountering Schoenstatt for the first time, could do nothing else than be deeply moved as he knelt there. …
On an icy February day at the end of the 1990s I was travelling with Róbert Gódány in a rickety car such as I had never encountered before or after in my lfe. We were travelling from Vienna to Obudavar over icy roads used more by horse carts than cars. Despite this we travelled at a speed that left me breathless. He told me about Hungary's history connected with this or that place we drove past. I had just completed my university studies and had covered the history of the Hungarian Revolutions – 1848, 1956, 1989 – intensively, yet here I was with someone who loved, lived and embodied this history of the freedom of his country. He was a patriot without being a nationalist. He was an Hungarian from top to toe, deeply rooted in the history, poetry and literature of his country, and yet able to see the vast world around.
Nevertheless what he said about the home shrine, about Schoenstatt in the homes and hearts of Hungarian families, made an even deeper impression on me. Gradually I formulated this in a sentence: The dream of Schoenstatt in Hungary is a person, and he is called Róbert Gódány.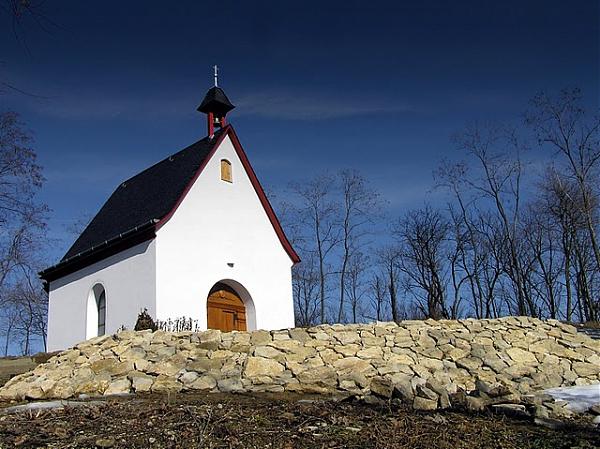 Photos: Hungarian Schoenstatt Movement
Interview with Rita and Róbert Gódány in: Richard and Ingeborg Sickinger, The Principle of Growth, Vienna 2014, p. 163 ff.