VATICAN/PERU •
This Saturday, 27 May, while Pope Francis was in Genoa on a pastoral visit, the Vatican Press Office announced the appointment of Fr. Reinaldo Nann, who belongs to the Schoenstatt Institute of Diocesan Priests, as the new prelate of the territorial prelature of Caraveli, Peru.
Only some weeks ago, Fr. Reinaldo Nann had begun his work in his new parish in Peru's Amazon region.  A native of Freiburg, Germany, he is 56 years old. As a priest fidei donum that is, he belongs to a group of diocesan priests from wealthier countries that receive their salary from their diocese of origin and assume pastoral tasks for a certain period of time in a less developed country. Since 1992, Reinaldo Nann had worked in Peru, and he has happily served.
He worked in several places, especially in the poorer parishes, and he also coordinated the Schoenstatt Movement in Trujillo, where the first Schoenstatt Shrine in Peru is located. This weekend, he is participating in the National Gathering of the Schoensttatt Movement in Peru.
In a 2016 Christmas Letter, the newly appointed bishop wrote: "I am more and more turning into a fan of Pope Francis. His focus on a poor Church among the poor is also my focus. His call to go beyond the periphery motivates me. The Apostolic Exhortations, Evangelii Gaudium, Laudat si and Amoris Laetittia, speak to my heart."
And he now has named him bishop, serving the Church in the spirit of Dilexit Ecclesiam.
Fr. José Luis Correa, who is presently in Costa Rica and who has worked a lot with Fr. Reinaldo Nann, was among the first to congratulate him.
A call that changes your life
Immediately after the announcement of his appointment, Fr. Reinaldo Nann wrote:
On 22 May, at 9:15 a.m. I received a call in my parish in El Estrecho from the Secretary of the Apostolic Nuncio in Peru (the Vatican ambassador): "Are you alone? No one can hear our conversation? You are under pontifical secret not to tell anyone about this until the date it is published! We have studied your person and now the Holy Father, Pope Francis, has appointed you as Prelate Bishop of the Prelature of Caravelí. Do you accept this appointment?"
I was frozen for a moment. I did not want to leave Putumayo. I did not want to abandon my people here. I asked: 'Can I have some time to think about it well?' 'Yes,' he said, 'you have 24 hours.' The poor man had already been after me for almost a month, but there was no way to communicate with me on my mission trip.
In fact, some three years ago, the present Bishop of Caravelí had also been appointed Military Bishop, and he was searching for a successor for Caravelí. He noticed me, because I really like to work in the mountains and those are few. But I was not interested in being bishop, because as a pastor, I can be much closer to the people, a quality, that Pope Francis now demands of everyone. I have never worried about making a career or having a friendship with bishops. I am freer and pastoral in my thinking and being than dogmatic and juridical. So, for me it was certain that this warmth would be taken from me. And nothing had happened in three years, I was in the Amazonia since February. I had sold my car (since there are no highways here); I sent 130kg of books and material for the ministry through a transport agency, because I was certain that I would stay here for many years. And the people here were happy that after many years there was a stable priest again – and then this call.
During those 24 hours, I began to pray and to think. I could not speak to anyone, least of all with my confessor. My question was: Lord what do you want of me? Is it God's will that I obey the Pope, who appointed me? Is God's will in the poor, native people of Putumayo, who need me so much and who I have recently become accustomed to? For me, it is not a question of power, money, or prestige. I am not looking for that. I am looking to serve. Little by little I realized that it was I who chose Putumayo. It was I who liked being here. While this call did not have anything to do with me. It had to be God's will. It still hurts my heart, thinking, that in a few days I have to leave my people here. I told God: You also have to find a solution for these people, since you are to blame, not I.
I know very little about Caravelí. It is close to Arequipa. It is a small city in a hot valley. The prelature has 22 parishes spread out over an immense territory of 29,000 square km. Only seven parishes have a pastor. The majority of the people live in the high, cold towns, and they speak Quechua. I have never been there. But I have read several books by José María Arguedas (for example, "Yawar Fiesta") and the names of Lucanas, Puquio, Cora Cora sound familiar. I imagine it like a Santiago de Chuco that is more expansive and further, there in the Andes between Nazca, Arequipa and Ayacucho.
The longer I thought how would it be to work there, the more peace overcame me: a sign of the presence of God's Spirit. At night, I dreamed of Arguedas and of Pope Francis who wants a poor Church among the poor. I would be bishop, but to be one in Pope Francis' style: close to the people, simple, evangelizing, and to my surprise the next day, I said, 'Yes, I accept' to the nuncio. He explained that there is a time of silence, until the Vatican publishes the appointment. How difficult it was not to speak with anyone about it. Then I will have two or three months to prepare the change. The episcopal ordination will be in Caravelí; that is clear. As soon as I have a date, I will let you know more. And do not forget: pray for me, so that my appointment will not make me proud, but instead, more helpful. Thank you.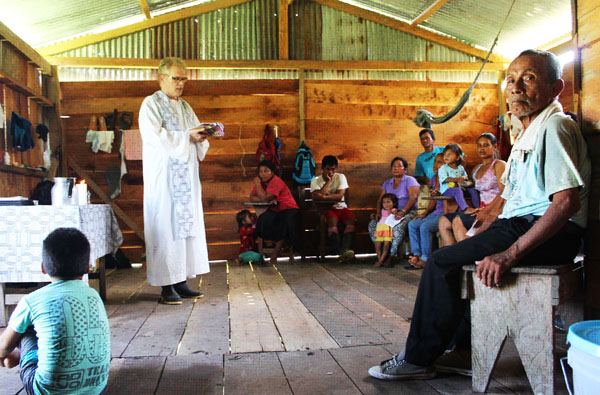 The recently appointed bishop  in a town close to Putamayo, where a priest had not been in many years.
Original: German, 27 May 2017. Translation: Celina M. Garza, San Antonio, TX USA. Edited: Melissa Peña-Janknegt, Elgin, TX USA